Becky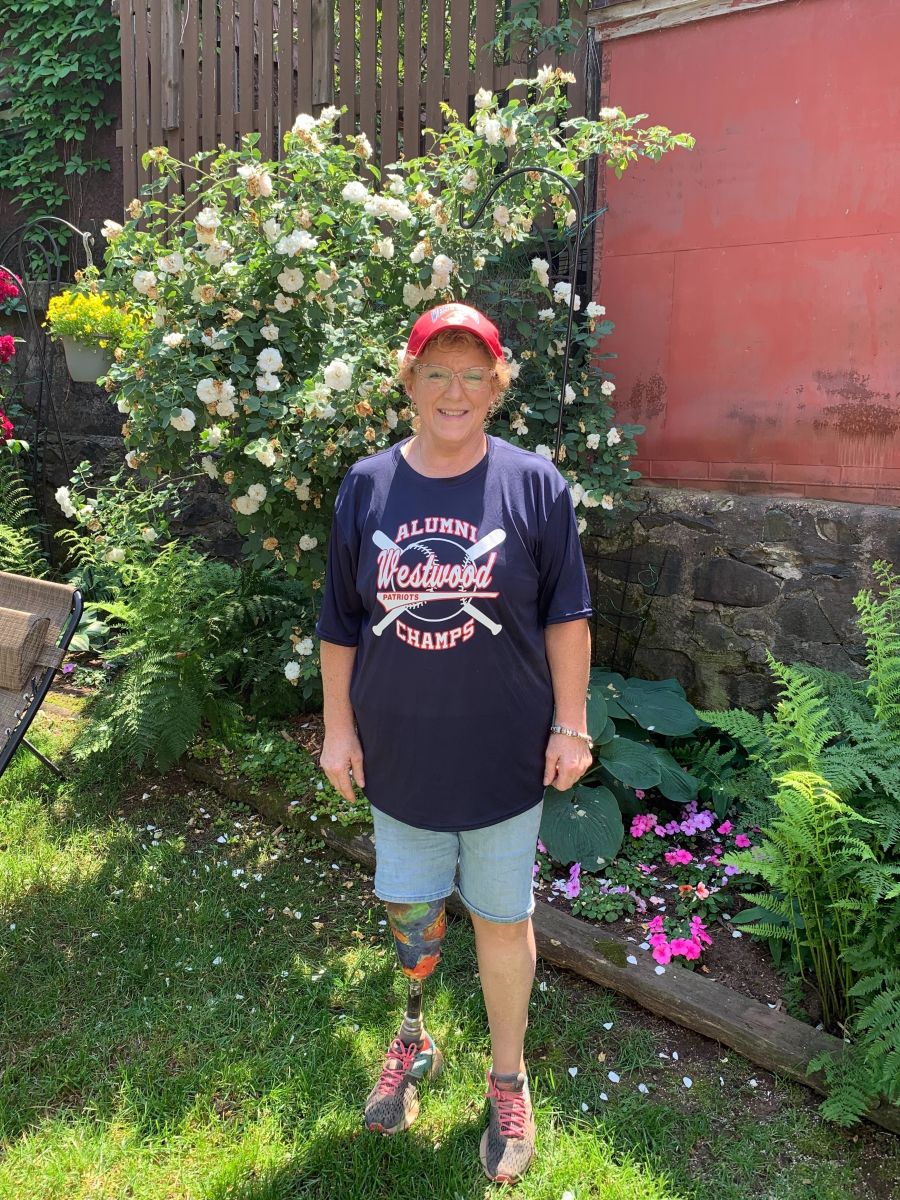 I became a right below-the-knee amputee in 2005, when I developed circulation problems in my leg after surgical removal of a tumor in my groin. In December 2004, I began to have pain in my right lower groin and, while searching for the cause, my surgeons discovered a Non-Hodgkin's Lymphoma tumor wrapped around the blood vessels supplying my lower leg. They removed the tumor, along with the blood vessels, and grafted new vessels in. This graft didn't work well, so I developed circulation problems, and eventually gangrene, in my toes. They tried several options, but could not save the leg. I became a RBKA five weeks after my initial surgery.
Right after my cancer surgery, I sat in my hospital bed and thought, "Why Me?" I was at this "pity-party" stage for a couple of days, and then, I woke up one day with a whole new attitude. I had been given a 50-50 survival rate with my cancer, but I kept thinking about my boys and my husband. There was no way I was going to leave them. I had the amputation one month after the cancer surgery.
Shortly after my cancer surgery, I met Jay, as he was working for Marquette General at the time. He was my only information contact, and the literature was limited then, at best. The internet, back then, was limited too. No Facebook groups or much else going on. However, Jay guided me through the process, and kept me informed about all I needed to know.
Unfortunately, after my amputation, I developed MRSA in my stump. Over the course of a year, I had four surgeries to remove it, and spent all that time in a hospital bed in my living room. I received my prosthetic one day short of a year after my amputation. I had a very long road of recovery.
I was lucky enough that my chemo worked and I am now cancer-free. I recently celebrated my cancer cure date of 16 years! I am so grateful for the friends and family who helped me along the way. I couldn't have made it through everything without my husband and boys, and Jay, of course. In a way, I feel lucky to have had the cancer and the amputation. It has made me who I am today – a stronger and happier person, one who is thankful for all the experiences she has had, good and bad, and the people in her life along the way.
I've learned a lot over the years, through trial and error, info from Jay and the internet, and talking with other amputees. It seems I am destined to run into amputees almost everywhere I go! Walmart is a popular place. I met a little girl with a double BKA on Mackinaw Island. I even met a man with an LBKA on an elevator going up to the top of the Skylon Tower in Niagara Falls, Ontario, Canada. We had a good talk in the short ride up the elevator. No one knows an amputee like another amputee! How fortunate for me to have met those people!
Life as an amputee is in no way easy. I'm not going to tell you it is. In fact, some days are really difficult – you get a sore or you get swollen from too much activity, you trip a lot one day, your back gets sore, etc. You are going to have bad days, yes, most definitely. But, if you can keep a positive attitude, that makes all the difference. Yes, this really crappy thing has happened to you. You've lost a part of your body. Never in my life did I think this would all happen to me! What I have found though is, to move forward, it is what it is. There is nothing I can do to change it. No sense bemoaning something I can't change. Instead, I look for the good in everything that happens to me. I believe there is a reason for everything in my life. Yes, life is really hard some days, and sometimes for a lot of days in a row, but I know it will get better. Also, the support from my friends and family, that helps me get through the tough times. I am one lucky girl!
Now to some advice - I know one big thing new amputees worry about is being stared at. Yes, people are going to stare, kids especially. There is nothing you can do about that. I let them stare. People are curious. I proudly show off my leg and wear shorts and short pants when I can. I have met a lot of great people because of my leg, more friendly than unfriendly. Some people only know me from my prosthetic! They'll ask me – "Didn't your leg have a different design on it the last time I saw you?" My favorite comment from a little boy was, "Mommy, why does she have a robot leg?" All you can do is laugh, go forward and be proud of yourself and what you have overcome!
More advice – Learn everything you can about how to take care of yourself – your stump (I just call mine "Stumpy Girl" lol), your prosthetic, your prosthetist, etc. Learn about assistive devices – stump shrinkers, walkers, hand rails in your home. A social worker can help you too. My best advice is to get a rolling seated walker. I use it when I don't have my "leg" on. Educate yourself! Ask questions. You will gain confidence and knowledge in time. And be confident in your prosthetist. I am so fortunate to have had Jay as mine. He has helped me through thick and thin, and I consider him a good friend. I've also seen Mike and Sam too, and they are both awesome prosthetists!
As an amputee, I can pretty much do everything I used to do, but with moderation and some assistive alterations. My favorite activity is gardening, and I have lots of gardens! Many times, I just take my leg off and scoot along on the ground. I also walk for exercise, and usually use a walking stick to help with balance. I also use my racing wheelchair, alternating power-wheeling with walking. I clean my house, I help in sporting concession stands, and really do whatever I want, for as long I can. My alumni class at Westwood just won our sixth annual softball championship! I play catcher and love every minute of it. I consider myself to be very active. The only thing I don't do is ride a bike, I don't feel comfortable doing that. For the rest of my activities though, I don't let much stop me. I adapt to the situation and go, go and go! Every day is a blessing, and I am one lucky girl.
Best of luck to you! You can do this!
Becky Old